Forum
Recent News
King
25/Sep | 03:15
CrimeFamilies
118 members
how do i get that recent news thing that i can put on my title page. on it it has the date & time that you posted the message, name and avatar of the person who posted the message
one of these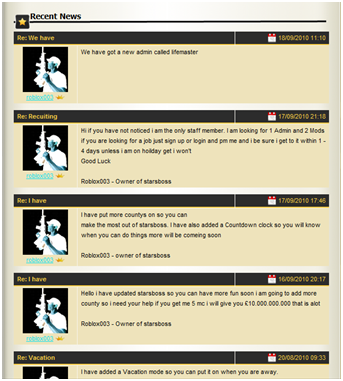 Mafiafamilyz
25/Sep | 05:10
MafiaFamilyz
1,313 members
on your site you have something called News management.
click on that, write the news and post it.
then it shows up on your site just like that
King
25/Sep | 15:14
CrimeFamilies
118 members
how do i put it where i want on my title page?
i dont want it right at the bottom how can i move it?
s2pidkaspr
25/Sep | 18:47
FraternityLife
174 members
i dont think that's possible
admin
26/Sep | 05:09
mafiaflood
404 members
from my understanding i read in a topic a couple weeks ago, it all depends on your layout. some layouts have the news out on the title page and some have it so only members can see it. I am not to sure why it is like this, personally i want mine so only members can view it but the layout i use shows it on the front page before you register, so right now i just use the forum instead.
s2pidkaspr
26/Sep | 06:16
FraternityLife
174 members
so what layout does only members see it and not in the main page?